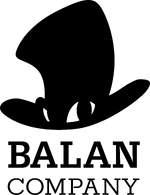 Balan Company is a Square Enix subsidiary studio focusing on the creation of action games. Balan Wonderworld is currently their only game production.
Information
"BALAN COMPANY is a new action game brand from Square Enix, founded around Yuji Naka and Naoto Oshima, bringing together action game development, video and music production professionals from both inside and outside of the company." (1)
Balan Company is a game brand/studio founded on July 16, 2020 by/around Yuji Naka and Naoto Oshima. They are a subsidiary to Square Enix, focusing more on action games, rather than the game genres that Square Enix specializes in.
Members
Productions
Trivia
It is unknown if Balan Company will create new productions, due to the negative feedback around Balan Wonderworld, and Yuji Naka leaving Square Enix.
The word "Company," in Balan Company, refers to the theatrical term for an entire cast and team, rather than a regular company. (2)
The company's namesake and the logo are based off the titular character Balan. The logo being Balan's hat and eyes.
Gallery
Sources